Should we start with how Travis Scott looks? He's tallish and ropey, nowadays usually draped in the expensive versions of the things people wear to cybergoth dance parties. His hair on a recent Rolling Stone coversimultaneously defies explanation and really completes his look. If you consider that concert photo from last year, the one where he's holding the mic stand above his head, and then consider the way he herks and jerks and leaps around on stage, he's like a character in his own claymation Tim Burton movie: Cactus Jack Skellington in The Rager Before Christmas.

Speaking of ragers before Christmas, last week, I watched Travis Scott part a red sea.

Not the Red Sea—this was at the Forum, in Inglewood, where the seawater inlet of the Indian Ocean is not. The outstretched hands of concert goers shouting themselves hoarse and dizzy in excitement, bathed in the glow of red LEDs, just sort of looked like a sea. He opened up the mosh pit, but he didn't jump in. It was the second of back-to-back sold-out shows for Scott's Wish You Were Here Tour at the 17,505-capacity venue, propping up his third and most accomplished album to date, Astroworld. Later in the show, Scott asked his longtime DJ OG Chase B to scratch off the music, and the crowd to extend their middle fingers in vindication. "We celebrating three Grammy nominations." Those are: best rap album, best rap performance ("Sicko Mode"), and best rap song (also "Sicko Mode"). If you take the almost-accolades for his August release, and add his first no. 1 single, the birth of his daughter, and the city of Houston's recent proclamation that every November 18 henceforth shall be known as "Astroworld Day," 2018 was, inarguably, the biggest year of Travis Scott's career.


Let's just say the brain-conquering delirium of "Sicko Mode" was a culmination. Of Travis Scott's rap-as-Instagram-Explore-page ethos, but also of a strange and disjointed year for pop music in general. In May, Billboard locked in some tweaks to its chart metrics as part of "a global push to measure [digital] streams in a revenue-reflective and access-based manner." This means, in English, that radio play isn't as important as it once was, and, functionally, that hits will continue to bubble up from strange places, for reasons that won't be easy to pin down. "Sicko Mode" is decidedly un-hit-like: its runtime exceeds five minutes, there's no hook, and it features three discrete ideas loosely stitched together. It does however, feature Drake. And just as the Drake-featuring intro picks up into a full gallop and the wonky fun-house trill ticks over, the song lurches forward into even weirder territory, and morphs two more times after that. In some ways "Sicko Mode" is the full realization of a concept that took root on "Drive," from Scott's 2013 mixtape Owl Pharaoh—a jumpy scan through the local rap stations while doing 30 mph over the speed limit on surface streets. In other ways—the aforementioned Drake verse, the death-drop transitions, Tay Keith fucking these niggas up—it's one of the most exciting rap songs of the decade, even if it felt a lot like cheating. LeBron James, who skipped onto the stage alongside Travis and Drake at the Staples Center in October, didn't seem to mind.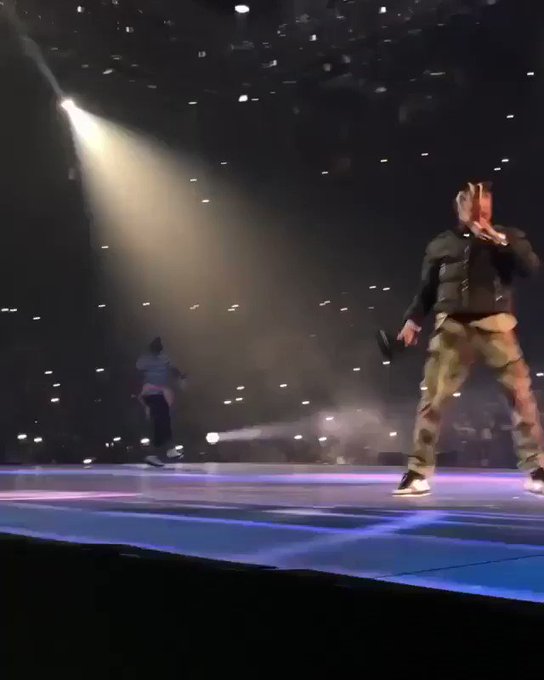 What you think of as pop music—pure pop music—is now a subgenre. "Today's rising generation of pop stars," critic Jon Caramanica wrote in a recent New York Times essay, "has never known a time in which Kanye West—or really, Drake—wasn't the most progressive, creative, and meaningful performer working in the mainstream." Hip-hop is what pure pop was, and the old guard is beginning to phase out. This year, a Jay-Z and Beyoncé surprise drop was upstaged by a 5 Seconds of Summer album, Nicki Minaj's Queen came in at no. 2 behind Astroworld, which was spending its second week at no. 1. Kanye West … I'm a little tired of talking about. So who are the new superstars? Music is as divided as ever by variant understanding of what music is supposed to be like, and maybe only Drake really transcends that variance on a consistent basis. There's a tier of stars beneath that, the ones that rule our attention for weeks or months at a time, for whom eventual superstardom is up for debate.

People love Travis Scott and, if you're looking at it sideways, it's easy to discount just how much. The critical line on Scott has been, at least since 2014's Days Before Rodeo, that it's strange that his influences are also his peers, and that he is, at best, decent at the things Quavo or Young Thug or Swae Lee are great at. There's also the matter of his politics, which are well, not good. 2014 is also when Scott claimed to know "the problem with black people" and said that Mike Brown—an unarmed teenager who was shot and killed by Darren Wilson that August—deserved to "pay for consequences that he probably inflicted." (Kendrick Lamar would say similarly dumb things in a marginally less dumb way a year later.) Before Astroworld was released, transgender icon Amanda Lepore was removed from the cover, which reportedly resulted in Frank Ocean filing a cease-and-desist to have his vocals taken off of "Carousel," although Ocean then wrote on his Tumblr that the two resolved their differences weeks before the report went out. Reverend Al Sharpton castigated Scott last week for agreeing to perform at halftime of February's Super Bowl while the NFL continues to shun Colin Kaepernick and Eric Reid is still being "randomly" drug-tested on a consistent basis. But it's tough to know what anyone expects—Scott did stump for Beto O'Rourke in the 2018 midterm elections, but did so because "Beto … [was] on some shit." We don't need him to be a thought leader, we'd just like for him to not fuck up royally.

He is a shithead, but he's so good at being one that it's almost disarming. There's something Scott has been doing in recent late-night talk show spots, where he recounts putting on a production of Kiss Me, Kate in grade school. He trails off into "Too Darn Hot," and stands up from his seat, snapping, singing, and smiling. It gets big applause. He is a performer, first and foremost, and history will likely remember him for that.

Everyone knows what a performer he is, but this year, more than in years past, it was tough to deny Travis Scott's powers as a curator, and likewise the value in making music that feels good, regardless of whether it's trying to communicate, with words, anything important. Music critic Lawrence Burney called Scott "one of the genre's best conductors," and I think it fits. He managed to make Kevin Parker, the Weeknd, and himself make sense on one song, and on another, James Blake, Philip Bailey, and Stevie Wonder's harmonica. This curatorial skill extends to his live show: he creates strange alternate realities for his guests to be amazed or confused by, to wander around in. For 2017's Birds Eye View Tour, he rode in on a fucking animatronic eagle, and this year, in tribute to the defunct Six Flags AstroWorld theme park, his mode of transport was an inverted ferris wheel. Also, a roller coaster suspended from the rafters overhead. The few stray fans who could wriggle over the barricade and past event security were allowed to strap themselves in and rap along as Scott performed.

"Stop Trying to Be God," Astroworld's fifth track, didn't happen until over an hour in, after the set change. Kanye West was there at the Forum—I know because he arrived to huge chants and camera flashes. It was tough not to think of the stripped-down performance of the song (just Travis's Auto-Tune and Mike Dean's synth organ) as sort of personal. Especially since you can interpret the lyrics as being about how world peace is not, strictly speaking, Kanye's business. One week hence, Kanye tweeted for a full business day about apologies owed and feeling threatened by Drake's second verse on "Sicko Mode." This was doubly awkward and hurtful, since Travis ad-libbed all over that verse, and he and Kanye are apparently soon-to-be brothers-in-law.

By the time "Sicko Mode" came around, for the encore, Kanye had reportedly left to beat the traffic. Scott was of course sweaty and shirtless, looking less like Cactus Jack Skellington than his own action figure, which appeared on the cover of his debut album, and was of course sold separately. (It's going for $1,000 on eBay right now, if you're interested.) I was struck by the sense that the third time really is the charm, as Scott was lowered from his roller coaster to the stage. The fireworks went off. "Thank you for coming to Astroworld!" he yelled. "Good night!"