Chromatics have confirmed details of new album Closer To Grey. The album, the group's first since 2012's Kill For Love, will be available to stream from Wednesday, October 2.

The seventh studio album from the group, led by Johnny Jewel, is made up of all new material and arrives ahead of Dear Tommy - a record teased since 2014. In 2017 Jewel claimed to have destroyed all copies of the album following "a near death experience."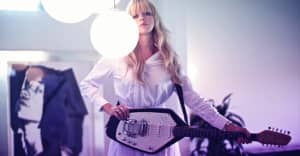 A statement from Jewel on Closer To Grey reads simply: "Music is medicine." See below for the tracklist and album artwork.

"The Sound Of Silence"
"You're No Good"
"Closer To Grey"
"Twist The Knife"
"Light As A Feather"
"Move A Mountain2
"Touch Red"
"Through The Looking Glass"
"Whispers In The Hall"
"On The Wall"
"Love Theme From Closer To Grey"
"Wishing Well"