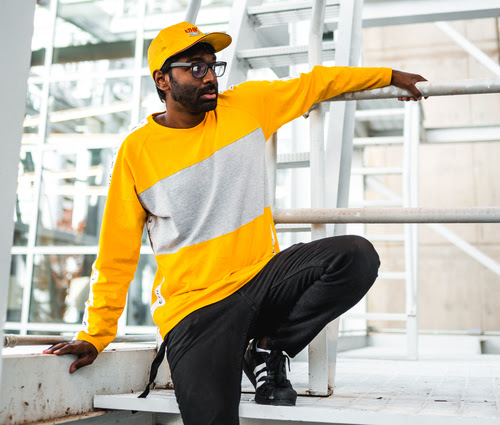 Today Austin, TX rapper Abhi The Nomad has released his latest single "Stay" ft. Love-sadKID. Abhi will also be performing live on the Bandsintown Twitch page tomorrow August 6th at 5pm ET/2pm PT.

"'Stay' is a song about admitting fault, and an ode to significant others around the world," says Abhi. "It's a tough time for people, but love has been the glue throughout a global pandemic."

This is the third of Abhi's 2020 track releases, and has already been praised by MXDWN and FOMO. The track features Love-sadKID who, at just 18 years old, has already made a name for themself touring with high profile artists like Oliver Tree and Hobo Johnson. Even at their young age, Love-sadKID has shared tons of music with fans, boasting millions of streams on many of their tracks and over half a million monthly listeners on Spotify.

Abhi's recent singles have propelled him past 1 million monthly listeners on Spotify and won him praise from many. Ones To Watch loved his last single "Risky Business" calling it "a funk filled bop from the moment it starts to the moment it ends," and Lyrical Lemonade called it "a testament to the way in which the Indian hitmaker has been able to merge the world of rap and pop into a cohesive style that is uniquely his own." His track "Long Nights" ft. Khary was featured in the Austin Chronicle, V Magazine, and Ones To Watch who said "what really makes Abhi the Nomad so special is his ability to draw you into his lyrics. Never feeling the need to tone down the production and variations within a song in fear of losing the underlying message, Abhi strikes an exquisite balance between hard-hitting sonics and impressive lyrical flow." Abhi has been lauded by many including Complex, NPR Music, Consequence of Sound, and Texas blog Ovrld who named Abhi's Marbled their #1 album of the decade(2010s).

Abhi has created an entire virtual world around his new album, one in which his fans will be able to unlock tracks by helping him navigate the music industry and level up through various challenges. Abhi vs. The Universe kicked off in this Black Mirror-esqe video where Abhi receives a video game in the mail and is subsequently sucked into the virtual world. As Abhi releases tracks and videos over the coming months, he progresses through the levels of the game as fans saw with the video for his first single "Long Nights" ft. Khary and continuing with the video for his new single "Risky Business". Abhi also advances in the game by streaming to fans on Twitch, which he's been doing regularly, playing games like Super Smash Bros and Warzone, as well as giving fans a peek behind the curtain with streamed production sessions.

By journey's end, fans will have their hands on the wildly creative 27-year-old's most ambitious and fully realized work to date, a clever, probing exploration of love and independence, pain and masculinity, evolution and perseverance. Like much of Abhi's catalog, the album blends hip-hop, funk, R&B, and indie rock into a swirl of addictive hooks and intoxicating grooves, but the music here is lighter and more buoyant than ever before, packaging weighty ruminations on growth and change inside playful pop facades.